Register for our Webinars
Webinar Descriptions & Registration
Below are details for each of the webinars in the operator & provider training track. Webinars are held from 11:00 am – 12:00 pm PT. Register for individual webinars by opening the webinar tab and following the registration link.
Researchers who complete the 12-part training series for researcher will receive a certificate of completion.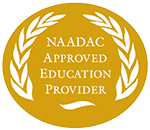 Providers who complete the 12-part training series for recovery residence operators and providers are eligible to earn 12 NAADAC CEUs. To earn the credits, providers must complete all 12 trainings by attending the webinars in real-time and/or watching the recordings and completing an evaluation survey for each webinar. Credits cannot be pro-rated based on the number of webinars completed. Upon completing the criteria, I-STARR will issue a certificate that can be submitted to NAADAC to obtain 12 CEUs  to count towards credentialing. 
All Audience Webinars
All audience webinars are part of the training series and count towards a certificate or CEUs
Register for Operator and Provider Webinars
Register for Researcher Webinars
Subscribe to Our Newsletter
Learn about the project, stay updated, and keep in touch. Sign up now.